Weeds that appear in hot summer weather are some of the toughest to control. They germinate when your lawn is under stress from heat, humidity, and drought and thrive under these conditions. Some summer weeds are grass-like and are not susceptible to 'normal' weed control measures. Here are some of the weeds you will be seeing during these hot summer months.
Nutsedge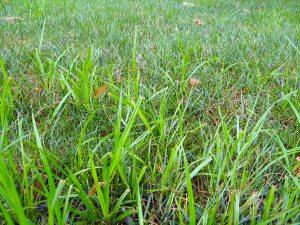 If a bright, yellow-green, grass-like weed is detracting from your lawn's beauty, there's a good chance that you're dealing with nutsedge. Nutsedge is a yellow-green warm-season perennial. It has upright, grass-like leaves with a glossy upper surface and dull lower surface that emerge from the base of the plant. The leaves are 1/8 to 1/2 inch wide, up to 3 feet long, and have parallel veins with a prominent midvein. Its flat-topped, burr-like flowers occur July to September and are affixed to the end of a stout triangular stem. It grows in all soil types, especially moist ones, but does not tolerate shade.
Nutsedge is a perennial weed that is hard to eliminate, mainly because it reproduces itself from tubers beneath the soil. If you hand-pull nutsedge, the tuber is usually left behind and will regerminate. Nutsedge grows quickly in low, wet soil. Left unchecked, it will grow as tall as 2-3 feet! ProLawnPlus's 5 Treatment program includes a summer weed spray, that helps control nutsedge.  But in lawns with an abundance of nutsedge, it is usually necessary to add one or two supplemental treatments.
Click for more information on Nutsedge.
Oxalis yellow/purple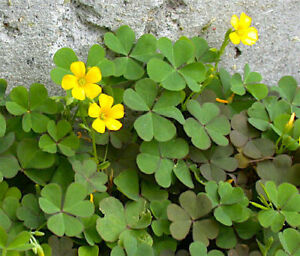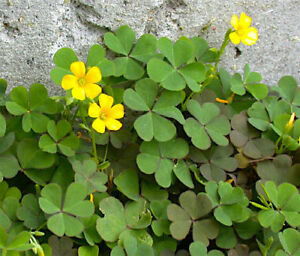 Creeping woodsorrel is a spreading perennial weed with a reddish-purple color that frequently roots at the nodes. The three heart-shaped leaves of creeping woodsorrel are nearly identical to yellow woodsorrel. It is sometimes mistaken for white clover. Creeping woodsorrel is most commonly introduced to the landscape through nursery container-grown landscape plants. Once transplanted and established it will quickly escape the landscape beds and invade the surrounding turf. Established creeping woodsorrel is difficult to manage and control because it is also resistant to most weed control products.
Click for more information on Oxalis.
Spotted Spurge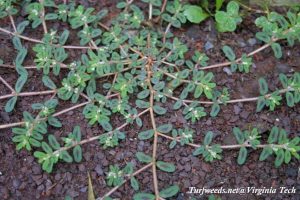 Spotted Spurge is a summer annual that produces seeds in 60 to 90 degrees Fahrenheit. From a central taproot, it grows a flat, extensively-branched mat up to 2 feet in diameter. The stems leak a milky sap when broken. Its leaves are small, oval and up to 3/5 inch long. They can be purple-spotted and hairy. Flowers occur June to October and are small and cup-shaped. It is found in thin, drought-stressed soil in hot climates and closely mowed grass. This weed is resistant to many weed control products. To minimize Spotted Spurge, water deeply, aerate your lawn, fertilize in autumn and avoid close mowing.