Though we can't control mushrooms directly, there are management practices that can reduce them.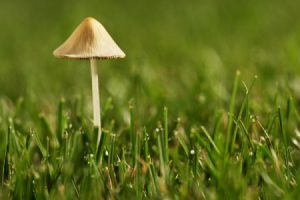 Mushrooms in your lawn call for different measures than standard lawn weed control. Mushrooms are classified as fungi, rather than weeds. Most mushroom-producing fungi in lawns are actually beneficial, because they break down organic matter, releasing nutrients that promote plant growth.
Mushrooms found in lawns often grow in areas where there are dead tree roots, excess thatch, or other organic matter. These mushrooms are usually harmless to grasses, but some people don't like the look of them in the grass or want to get rid of them because children play in the area. Many of these mushrooms are associated with over-irrigation, poor drainage or excess thatch. Removing excess thatch and aerating the soil to improve drainage as part of a lawn care program may help. There are many different types of fungus and molds. Have you ever seen the lovely sight of the "Dog Vomit Fungus" growing in a mulched area? Click for more info
Extensive areas of fungi in your lawn, with or without mushrooms, may require more aggressive management. Give ProLawn Plus a call today for a free lawn care estimate. We will provide a complete lawn analysis and recommendations to rid your lawn of mushrooms and other fungi, allowing your lawn to be able to grow to its full potential.
ProLawnPlus provides professional lawn care and tree/shrub services for Maryland residents in Baltimore City, Baltimore County, Howard County, in addition to portions of Harford and Carroll Counties.